GOOD TO KNOW
HORSES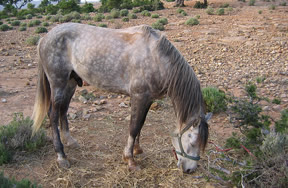 Our horses are without exceptions Arab Barbs, a breed that is very skilled in long-distance outdoor riding and stands out for their endurance, sociability and hardiness. Apart from these outstanding qualities they are trained for autonomy in the group (herd instinct almost non-existent) and the ability to remain calm in all situations that may arise during a trail.

The saddles we use are comfortable hiking saddles related to the English army saddles and equipped with bags. The saddle pads are replaced by thick covers.
RIDING LEVEL
All our treks are for people over 16 or accompanied children under 16. We strongly recommend a regular practice in horseback riding, a good physical condition and basic principals in handling a horse. More precisely you should be able to trot and canter in balance with the horse.
HIKING AND CAMEL TREKS
For small groups (up to 4 persons) we can arrange hiking and camel riding in most of the regions our trails take place.
Most of the time the phrase "camping" is then replaced by "homestay".
During the trail the luggage is transported by one or more camel(s).
THE FLIGHT
Flight connections to Morocco are provided by some European companies or by Royal Air Maroc. Their prices vary depending on the season. The most expensive season usually corresponds to the school holiday periods.
Especially in April, July and year-end the flight prices can be more expensive. It is best to book the flight 2 or 3 months before the departure date allowing cheaper flights.
Note that the price of the flight is not included in the price of the stay.
If you wish, we can redirect you to a company for booking.
OTHER
The local time is GMT. In winter there is 1 hour time difference and during Ramadan 2 hours.
Most Moroccans speak French but the official language is Arabic. In addition to Arabic there are three Berber dialects.
For further information you can visit the Moroccan tourist office website: www.tourisme-marocain.com